CAPS! House of Chocolate and Shop in Jauna Teika
Caps! House of Chocolate concepts store is all about friendship, quality and added value to visitors. We love what we do - fresh chocolate sweets, aromatic Illy coffee, nut lace cookies, every product made by our hands, but we also love our friends and product they make - marvellous design accessories, hand paintedporcelain mugs, natural face cosmetics, artistic papery elements, bone carved brooch, tea from Latvias summer meadows  and more - in every step in our store you'll find a high quality product with long lasting impression. 
Discover Aromatic Coffee and Freshly Baked Buttery French Croissant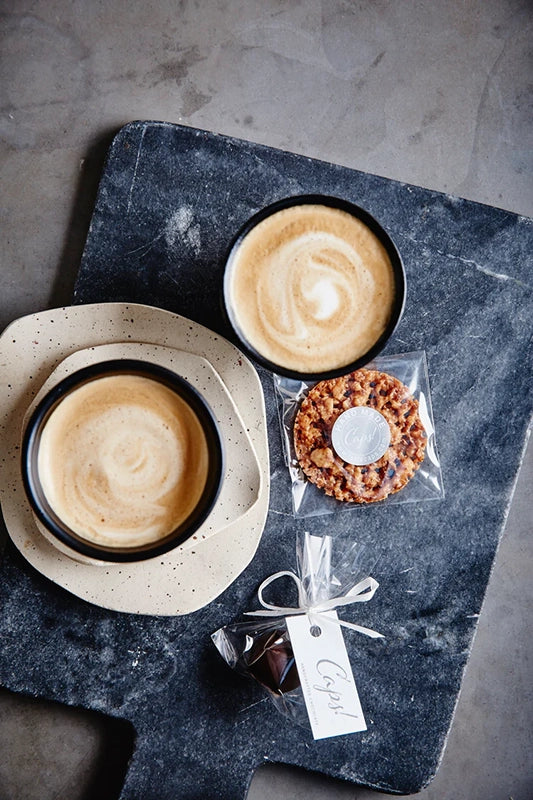 We welcome you for a cup of aromatic Illy coffee and buttery french croissant on a sunny terrace (plaids are here for windy days). Do you remember sweet scented waffle on a Sunday's breakfast plate? We dare you to try one of our plain or milk caramel filled - it is the taste of childhood. 
We offer tasty coffee and different kind of freshly baked pastries and sweets - croissants, cakes, pies, waffles and breads all day long.
And of course marvellous chocolate truffles one or selected in box (your choice) are always here for you. 
Skip The Queue and Order Now
Some of Our Lovely Customer Reviews
See what our customers say about our concept store....
Patricia

Super cozy cafe. The best cheese croissant I have ever eaten, I have repeated. I also bought chocolate and cookies. I would go back just for the croissant.

Oscar

A small but very European chocolate workshop - a house with a fantastically developed character and skills to address the tastes of any gourmet. Yes, not just fancy candy truffles, but also cakes for anniversaries. The New York cheesecake with whipped cream and berries in the pictures tasted great. Visit, enjoy and recommend to others!


Maris

A great place for lovers of chocolate and other delicacies. A very nice and warm hostess who also organizes chocolate making master classes.